A wide variety of musical styles will be on the menu during an "After Brunch Bash with The Teflons and Sunnyside Up" Feb. 17 at FitzGerald's in Berwyn.

This is the 12th annual After Brunch Bash featuring the two groups. The double-bill event was the concept of Barb Silverman, leader of The Teflons. She chose the brunch theme "since Colby Maddox's band is called Sunnyside Up and my band is The Teflons, which is the name of a frying pan," Silverman said.

She said it's a great pairing because "we're both high-energy bands. We respect traditions, to an extent, and we also break out of boundaries a little bit."

Silverman formed The Teflons in the late 1990s, originally as an all-female group. The current lineup for each performance is three women and two or three men, most of whom met at the Old Town School of Folk Music.

The Teflons have performed at Millennium Park in Chicago, WFMT, SPACE in Evanston, Chicago Folk and Roots Festival, Fox Valley Folk Festival, and Folklore Village in Dodgeville, Wisconsin, and at other festivals. All of the band members have impressive resumes and busy careers.

In addition to Silverman, who sings and plays guitar and washboard, and is a square dance caller, the FitzGerald's lineup will include Gail Tyler (vocals, banjo, ukulele), Eugenia Elliott (vocals, guitar, flute), Rick Veras (fiddle), Stevie Doyle (dobro), and Mitch Straeffer (bass).

Silverman describes her group's style as "fun. I like to call it country swing because we do some early country — along the lines of the Carter Family — we do some bluegrass now and then, we do some stuff I've written. It has some '30s, '40s and a little bit of '50s feel to it. We'll do some early jazz and western swing."

At the bash, the group will perform their theme song, "Wrap Your Troubles In Dreams," which is the title of one of their CDs. Other selections will include "Alabama Jubilee," "Something's Got a Hold on Me," "When Our Old Age Pension Check Comes to Our Door," "Solid Potato Salad," and a Silverman original, "Venus and a Crescent Moon."

The bluegrass band Sunnyside Up was founded in 2004. The members knew each other from working at the Old Town School of Music and from performing with other bluegrass bands. The group has performed at Martyrs, SPACE, the Celtic Knot and a number of festivals, including Square Roots, Glenview Baconfest, and Downers Grove Heritage Festival, among others.

At the After Brunch Bash, Maddox, who plays mandolin and fiddle, will be joined by Eli Broxham on bass, and Aaron Dorfman on guitar.

"We do some original material and we also do souped-up versions of bluegrass instrumentals that have a rock 'n' roll flair," Maddox said. "We all enjoy playing without a drummer. It's the perfect music because it allows everybody to keep time."

Maddox's group will play "Can't You Hear Me Calling," as well as other familiar numbers, and some original tunes.

Maddox thinks that The Teflons and Sunnyside Up make a great double-bill because, "We're both acoustic groups, but different styles of music, with strong vocals."
Musically, they have all traveled separate paths.

But when Barbara Silverman joined forces with Gail Tyler, Patricia Ohanian and Eric Lambert, they created a more spicy musical gumbo.

Silverman, a bluesy folk singer, performed 25 years with the Laketown Buskers, a Chicago jug band. She and Tyler were teachers at the Old Town School of folk music.

Tyler and Ohanian were in country swing bands. Lambert performed in Heartsfield, a bluegrass-influenced rock band.

Sharing a love of old-fashioned, blues-tinged country music, the Teflons perform a repertoire full of surprises, fun and fierce licks Saturday at Valparaiso's Front Porch.

After years of performing in other bands, Silverman says the Chicago ensemble began trading harmonies and musical rhythms in one another's living rooms. Out of their good-natured experimentation and their passion for acoustic music, the Teflons were born. "Gail and Patricia just started yodeling together," Silverman says. "Then I sang, and we did a three-part yodel harmony."

Guided by their clear, yet unconventional harmonies, the Teflons break the mold. They perform honky tonk yodels, fiery mandolin riffs, Hawaiian melodies, doowops and country tunes. They switch from original to cover tunes. A third of their repertoire is a cappella.

"One of the things the Teflons do really well is come up with interesting ways to present songs," Silverman says. "We bring four or five vintage styles to the table. We don't do the usual arrangements."

And occasionally, the Teflons also have an R&B lilt. Silverman performs a soulful rendition of Etta James' "Something's Got a Hold on Me." And the ensemble sings Curtis Mayfield's "Bring It on Home to Me" as a rousing doowop number.

All of the songs surface from the intricate harmonies of the female singers, and Lambert's guitar playing. "Eric is really open to my arrangements, and he can play on his guitar what I hear in my ear," Silverman says. "I can hear a melody and instantly slap down a harmony. I'm able to hear other parts when I'm singing my own part.

"This band was founded on harmonies," Silverman relates. "We don't do predictable parallel harmonies. We know how to stack our voices in an interesting way."

The Teflons are "a living room band" with a lively, vintage vibe. "The old-time country music we perform people have been doing for hundreds for years," Silverman says. "People who are not familiar with a lot of traditional styles of music think folk music is just Peter, Paul and Mary. That's too limiting. What we do really encompasses everything."

And if you've never heard crooning yodels, with the scratch of a washboard in the background, then you don't know what you've been missing.

Life Story Theatre, a three-week series at the Vernon Area Public Library, encourages participants to share memories and then weave those stories together in a creative and musical fashion.

The series meets from 9:30-10:45 a.m. three consecutive Thursdays, Oct. 20 to Nov. 3.

Life Story Theatre provides a comfortable setting with a group of peers for a unique, memory-stirring experience.

In small-group workshops, musician and director Barbara Silverman encourages participants to share memories, then skillfully guides their artistic expression, while weaving together these memories into a performance with vintage music.

These joyful and candid stories become part of a final performance for family and friends in the last class.

"Creative aging" is an increasingly popular movement to engage older adults in active programs with a focus on social engagement and skills mastery.

This often involves providing opportunities for meaningful, creative expression through visual, titerary or performing arts workshops.

Life Story Theatre is the brainchild of Barbara Silverman. A faculty member at the Old Town School of Folk Music, Silverman has been in arts education for 25 years. She is a folk musician and soloist with several Chicago-area bands, known for bluesy vocals, solid swing guitar and impressive washboard skills. Silverman has presented the concept of Life Story Theatre at national and regional conferences for the American Society on Aging, universities, and health and wellness institutions.
The Life Story Theatre series is free and open to all. Registration is recommended. Participants can register online at calendar.vapld.info, by telephone at (224) 543-1485, or in person at any public service desk in the library.
Veron Area Public Library district submission
---
Vital Times
MAY 2002
Road shows: Delivering entertainment is their specialty.
The White Crane Players, under the direction of founder Barbara Silverman, have been performing at senior centers and residences, nursing homes, hospital wellness programs and community centers since 1987.

Chicago Arts & Entertainment
MAY 17-23, 2002
Multifaceted Barbara Silverman juggles it all with ease.
Like many self-sufficient musicians in Chicago, Barbara Silverman has her hands full. Silverman, on the other hand, takes on more work than most self-sufficient musicians could probably fathom.

When she's not on stage as a soloist, you can catch her all-female group The Teflons, or perhaps playing various Midwest venues with her longtime jug band, The Laketown Buskers. And when she's not on stage, Silverman can be found in the classroom teaching one of five classes at the Old Town School of Folk Music, teaching a choir once a week or directing a traveling performing troupe called The White Crane Players for seniors and various other audiences.

"It's always a juggling act," Silverman said. She handles the load rather well when she adds, "I imagine it's not much different from anybody who has a day job."

Maybe just a tad different, Barbara. Unlike many in their day jobs, Silverman's passion for her work results in energized performances all around.

Ever since she began playing with The Laketown Buskers in the late '70s, the people have taken note of Silverman and company's spunky energy.

"They love The Laketown Buskers," said Silverman. "We're a real lively, visual, funny and fun jug band with very good musicians. The fiddler was the fiddle champ of a couple different states and the mandolin player is an excellent performer and musician in several different genres of folk and traditional music; the bass player plays a washtub bass; I play the washboard."

In addition to the eclectic Buskers, Silverman has dazzled audiences performing solo at concerts, libraries, schools and even churches.

"I think my appeal as a solo performer is my stage presence and maybe the songs I write," Silverman said. "But, I think my prime appeal to people is my energy and spirit on stage."

If Silverman's clogging by chance doesn't lift your spirit, then perhaps the audience favorite washboard will.

"I have to say the one thing that gets the most reaction from my audience is my washboard playing," said Silverman. "No matter if they're rich, poor, sophisticated, or rustic."

Raised in a music-friendly home and eventually engaging in the folk music boom of the '60s, Silverman has been engrossed in music all her life.

Now, with her company Silver Beam Music, she comes equipped with her guitar and washboard, ready for any audience.

In the classroom, where Silverman tries to bring as much joy and spirit as possible, her students walk away learning everything from Appalachian clogging to jazz torch songs.

"I love teaching," Silverman said with certainty. "It's one of my greatest strengths."

In addition to putting out a CD of jazz torch songs, Silverman hopes to keep performing and learning new material.

"I write new songs very seldom, but when I do, and if it's a good one, I like to perform it and hone it," Silverman said. "Never a shortage of things to work with."

You can say that again.

For more information on Barbara Silverman, log on at wwwsilverbeammusic.com.
Michigan Folk Notes
MAY/JUNE 1995
The name of the game on Barbara Silverman's new tape is variety, from blues to gospel to trains, from guitar to washboard to bones. She combines a deep, resonant voice with fine guitar-picking on such numbers as "Bread and Gravy" ("No sad news now,/no more blues now") and "Tennessee Local" ("a smoky little pokey little train"). Eleven of the 13 cuts are either traditional or by other songwriters, including "C.C. Rider" and "Train Travel," a medley of railroad tunes and an Edna St. Vincent Millay poem. One of her two original numbers is a winner, "Gary and Patrick," a tale of friendship between two homeless men in a single-room occupancy hotel: "Call me at home, pal, or call me homeless / No matter your shoes don't match and your shirt's a mess / Meet me down the lobby for a game of chess / where the bets are cigarettes, I'll take that queen / From the best old pal this hotel's ever seen."


The tape was recorded at a 1994 Quaystone Concert in Big Bay, near Marquette. Unfortunately, the quality suffers from a too-common failing of live recordings - at times, an instrument partly drowns out the lyrics, and the patter and applause between some numbers is distracting.

Eric Freedman is an East Lansing writer and co-editor of
Michigan Folk Notes.
C/O The Editors • P.O. Box 6248 • East Lansing, Michigan 48826
Chicago Tribune - TEMPO - Arts watch
TUESDAY, FEBRUARY 3, 1998
Home girl
Martyrs hosts a multi-act CD release party for Barbara Silverman's new "
Carry Me Home
" Feb 22.
Daily Herald
JANUARY 23, 1997
Kickin' up their heels
With traditional folk instruments in the foreground, Woodland fourth-graders dance on stage to folk music. The intermediate students on Jan. 15 had a visit from Barbara Silverman, who performed square dancing, clogging and couples dancing, with the help of some willing student assistants.


Chicago Tribune - Lake County Briefing
JANUARY 17, 1997
Kids encouraged to fiddle around
The 3rd graders at Woodlands Intermediate School in Gages Lake were treated Wednesday to "All Jump Up," a show on American folk music and dancing by performs from Urban Gateways, the Chicago non-profit organization that promotes arts education in the schools. With Barbara Silverman on the washboard and others providing the music, some of the children showed what they had learned by doing a square dance for their peers.


Chicago Tribune - ArtsWeek
SUNDAY, MAY 7, 1995
Chicago Arts, By Charles Osgood
Barbara Silverman combines voice, guitar, washboard and bones during a concert in connection with her first solo tape release 9 p.m. Saturday at the Lunar Cabaret, 2827 N. Lincoln Ave. She'll be backed by Keith Baumann on mandolin and dobro.


Grand Forks Herald - Arts & Entertainment
FEBRUARY 18, 1994
Winterthing: A grab bag of kid fun at multicultural festival
The world's rhythms ... Percussionist
Barbara Silverman
will be among five other performs from David Baker Productions in Chicago. For her workshop on multicultural rhythms, Silverman plans to use examples from Portugal, Ghana, Mexico and Mississippi.

"All music in the world is made from instruments you either strike, blow or pluck," said Silverman, who will teach children some basic rhythms. "They'll get an aural sampling of the world's rhythms." She also plans to show kids how to make music from bottle cap shakers and sand blocks, which they will make themselves.

"It's social, musical and cultural education," Silverman said.
By Bruno J. Navarro - Herald Staff Writer
---
Vital Times
MAY 2002
Road shows: Delivering entertainment is their specialty.
The White Crane Players, under the direction of founder Barbara Silverman, have been performing at senior centers and residences, nursing homes, hospital wellness programs and community centers since 1987.

That year, Silverman received a Neighborhood Arts Project grant for a program to gather stories and songs of older members of the Lake View community.

"I had always wanted to combine music with real-life experiences and the grant enabled me to do that," Silverman says. "However, I needed a hosting site for the project and the White Crane Wellness Center was near my home."

Thus, the White Crane Players was born. Silverman initially recruited from the center; others heard about the program and joined.

Today, the group receives most of its funding from the Maurice and Hulda Rothschild Foundation, which enables them to stage 30 performances a year, Silverman says. She generates additional bookings through her other business Silver Beam Music, a Chicago company that offers workshops and performances and does recordings.

Silverman also teaches at the Old Town School of Folk Music and directs a choir at the private North Park Elementary School. For the past two years, she has been arranging musical programs for older adults at the Old Town School.

When she started the White Crane Players 15 years ago, Silverman, who started playing the guitar in high school had already established herself in Chicago as a folk singer, founder of a string band and teacher of dance and music classes. She had performed for senior groups on many occasions and found that people who have lived a long time have many interesting stories to tell.

"Our first show involved around 50 performers reminiscing about their lives and was a huge success," Silverman recalls. "The stories of older people are full of richness, humor and depth."

Food for thought
The current White Crane Players show, "Food, Glorious Food," features Silverman, Eve Waldman, Nate and Sue Lofton, and Helen Beverwyk. The group performed it recently at Covenant Home on Foster Avenue in Chicago.

The show begins with Silverman asking, "Do you have coffee in the morning?" The other performers then talk about coffee and what they like or dislike about it-its aroma, its flavor and other coffee experiences they have had. After this interesting and amusing dialogue, the group sings, "I Love Coffee, I Love Tea."

Other food conversations continue about soup, bread and butter, desserts and lifetime cooking experiences, which trigger such songs as "Shortnin' Bread," 'Yes, We Have No Bananas," "Hey Good Lookin' what You Got Cookin'?" "On the Good Ship Lollipop," and "Shoo Fly Pie" and "Apple Pan Dowdy."

The audience is drawn into the performance when they are questioned about their favorite foods. Then the group performs a medley of Hebrew, Japanese and Irish tunes, concluding with, "The Whole World in His Hands."

For a song
An original memher, Eve Waldman typifies the White Crane Players. "when I was six years old, I played a candle in the synagogue and became hooked on show business," says Waldman. However, as a child they told me I couldn't sing, so I should just move my lips. "I continued doing this until I joined this group and I was suddenly singing. I was already going to the White Crane Wellness Center and when I heard about the new group, I decided I wanted to sing and tell stories. I enjoy playing to the groups of seniors, whether they are in independent living or in nursing centers," Waldman says.

Through the years, Waldman participated in PTA and other shows, but on her 75th birthday a year ago, she gave herself a present. She had photos taken and a professional resume made and started going to theatrical agents. Now she is auditioning. Waldman has been told she is at the perfect age for a new career.

As the White Crane Players began to grow, Nate and Sue Lofton joined the group. Nate Lofton, a retired school principal says be became a member because his wife twisted his arm and because she needed someone to drive her.

"I enjoy the people we are presenting to and it is a pleasure doing some thing for others," says Nate Lofton. "The audience stimulates me when I see them having a good time."

Lofton says that we all have a little ham in us, though his first acting experience was not very promising. In kindergarten, he played a Pilgrim and had one line. When it came time to say his part, he froze.

He did not perform again until he the White Crane Players -- and time he has overcome obstacles to rise to the occasion.

One performance that stands out in my memory was when we performed at a retirement center on the South Side," "recalls Lofton. "They had a popcorn 'machine and I can't stand the smell. Getting through that performance was quite a chore - but I made it."

Storied friendships
Founder Silverman is glad to have so many performers making their best efforts. "The people in the troupe have become some of my closest friends," she says.

"I love it that these performers can go out and give to their contemporaries and others performing-arts entertainment they might not experience," Silverman explains.

"I also love how the show mutates. When people leave the show, we still use their stories and new people bring in new lifetime experiences. Also, the spontaneous participation from our audiences gives us new material all the time."

Silverman also loves the challenges of putting together and staging shows. She never knows if she will have two people or eight people performing on a given night, but the group always pulls it off. Sometimes audience members appear to not be fully functional, but evervone seems to respond to something that is presented, Silverman says.
By Philip D. Hoffman - Vital Times Contributor

EXCHANGE - Mid-America Congress on Aging
SPRING, 1996
You're only as old as you act. That's the dramatic motivation behind the White Crane Players, a multi-ethnic troupe of elders whose ages span three decades. A project of the White Crane Health Center in the Chicago area, the troupe is directed by Barbara Silverman, a Chicago performing artist in music, dance, and theatre arts for over twenty years.

Barbara tapes senior sharing their own life stories in workshops, the edits the hours of stories into a script and chooses songs and movement to highlight each scene. The shows' satire often is punctuated with vintage popular songs such as "All of Me" and "Button Up Your Overcoat." One show even included a silent tai chi chorus. The players generally play themselves, although they sometimes role-play a character or scenario in one anothers' lives. The diverse cultural backgrounds bring the script to life and color, and the shared experiences of the group give a unified message to the audience.

"One of the hardest parts was getting them to talk in the workshops," Barbara said. "There had to be an atmosphere of trust and acceptance. I had to excite them, yet make them feel relaxed enough to speak freely about their experiences. There is art in a person's speech. I hear poetry," she said. "I would tell them what they were saying was beautiful and to say it again with confidence."

The White Crane Players' newest show is "Food Glorious Food," and offers comic memories ranging from favorite delicacies to dinner disasters, from how we feed the face to how we nurture the soul. The 1993 production "Home Free" included a cast of mixed ages, back-grounds and ethnic groups sharing their recollections of home and homelessness. Another popular production was "Healthy and Wise," a musical narrative highlighting attitudes, comic memories and struggles surrounding health issues. From old-time remedies to present-day technology and prevention, the show testified to the importance of laughter and self-empowerment. Following each of these traveling show performances, the players engage the audience in a dialogue, highlighting issues in the show and swapping memories and experiences.

For more information on the White Crane Players, contact Barbara Silverman at: 773-267-3363
Chicago Tribune - Overnight
SUNDAY, JUNE 13, 1993
'Home Free' brings feeling of welcome
Sitting through the premiere of "Home Free" last week at the Beacon Street Theatre was a little like dropping in on somebody else's family reunion: You feel a little bit uncomfortable at the beginning, but by the time the afternoon is over, you're sorry to see everyone leave.

This unusual performance piece is the result of an eight month collaboration between Lakefront SRO and White Crane Wellness Center, a pair of Northside, not-for-profit agencies that serve the homeless and older adults.

Scripted and directed by
Barbara Silverman
, the piece grew out of a series of workshops where members of the two groups talked about their experiences of home and homelessness.

From those workshops, Silverman, who's appeared on "Prairie Home Companion" and whose folk band, the Laketown Buskers, are a popular local fixtures transcribed and scripted the performance, which combines the actual words of the participants with movement and popular songs.

While the program stated that the piece was separated into four sections Senses of Home; Home Displaced; Homed and Homelessness; and Ritual, ear and Fantasy - the divisions weren't at all noticeable, and the hour passed by seamlessly and quickly.

The only rough spots occurred during an occasional gaffe by the performers - eight women and four men drawn from the sponsoring agencies - but these were easily absorbed in the spirit of compassion that surrounded the piece.

Even though the piece occasionally veered toward excess nostalgia, Silverman always brought it sharply back. For example, in a scene where the performers are calling out their thoughts about home, one woman says, "Home is where the heart is," to which another woman answers, "Home is where the hatred is."

Also memorable was Fumi Yamamoto's memory of her Japanese family's treatment during World War II. "The FBI was always looking for contraband goods," she recalled. "They even took my little Brownie box camera."

Such stories made "Home Free" a spirited, gentle and contemplative experience. Silverman hopes to reprise the show in the fall.
By Chris Petrakos, Chicago free-lance writer
---
Band Biography
The Laketown Buskers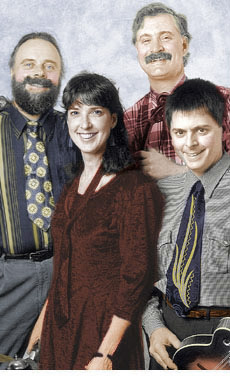 Here they are, the inimitable Laketown Buskers, a Midwestern festival-concert-radio favorite for better than two decades.
Full of energy, talent and infectious fun, the Buskers are the musical equivalent of a country general store. They come fortified with a dazzling array of musical contraptions from the familiar fiddle to the galvanized washtub bass, and have in stock everything from low-down blues to high-tone jazz. Renowned for their inventive arrangements, this lively quartet features sweet vocal harmonies. Soulful, they touch deep down with a country classic, whisk you to a high energy breakdown and swing you back again with jug band favorite or a taste of 1950's rock and roll.
How do they do it? Nothin' to it. Colin McCoy opens with his championship winning "rosin-sizzling fiddle" (Old-Time Herald) and follows with an evocative lead guitar, banjo, harmonica, or musical saw, all played with passion and ease. At his side Keith Baumann, famed for flashy fingers and flashy threads, doubles on mandolin or spell-binding dobro, equally at home with rip-snorting bluegrass and sophisticated jazz.
Meanwhile "stunning vocalist" Barbara Silverman backs up her "honey voice" (Illinois Entertainer) with rock solid rhythm guitar and piano, and wows audiences with the most incredible display of washboard wizardry either side of the Mississippi. And holding up the bottom is Bob "Great Bobo" Stelnicki with his amazing washtub bass and sterling voice, dicing up rhythms with bones and spoons, and ever ready with the comical side.
The Laketown Buskers have an appeal that captivates all ages. They have busked the hearts of millions on national and local radio and graced the stages of the heartland's most prominent clubs and festivals. And true to their name, they can still be found playing a street corner for a coin and a smile. Come feast your eyes and ears. Come hear the Laketown Buskers.
"A hot band from Chicago" - Garrison Keillor  
"An old-time, upbeat string band with humorous overtones and talented musicians, including champion fiddler Cohn McCoy" - Chicago Magazine  
"The common link between their potpourri of country swing, jug band, hot jazz and hokum is fun … Barb's honey voice encompassing Cole Porter, Bob Wills and Bessie Smith material ... the Laketown Buskers translate the old wave into invigorating music" - Illinois Entertainer  
"Excellent and well-known Midwesterners ... Colin McCoy (two-time Illinois State Fiddle Champion) made up for the sparsely of fiddlers" - Come for to Sing  
"An exciting band with an eclectic range from old-time to jug band to swing ... the Buskers play crisp and clean instrumentals combining not only blues, breakdowns, and hillbilly, but also jazz and a bit of 1950's rock 'n roll" - Old-Time Herald
"One of the best jug bands still performing" - Chicago Tribune