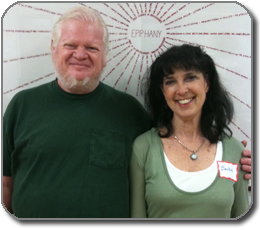 Silver Rose
The beloved and dynamic duo of Barb Silverman, "a folk festival in a box," and Steve Rosen, "the folk Buddha," pack 30 years of charm and talent from old-time to swing to novelty, weaving tight harmony, textured rhythms, expansive solos, and snappy footwork.
Barb's guitar, washboard, and lilting voice have captured hearts as a soloist and with the Laketown Buskers, the Teflons, The Schticklers, on Prairie Home Companion, and opening for Emmy Lou Harris, Odetta, and Arlo Guthrie.
Steve's banjo, mandolin, and fiddle bridge old time string band, country-western, and bluegrass with either the Volo Bogtrotters, the Whiskey Hollow and Brushfire bluegrass bands, the Wild Goose Chase Cloggers, or the Chicago Barn Dance Company. His range of vocal techniques and styles is extraordinary.